Featured Products

Upcoming Events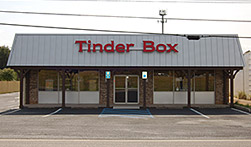 Mobile Tinder Box

3484 Colonial Mall - Bel Air
3484 Colonial Mall
Mobile, AL 36606




pipes
,
pipe tobacco
,
cigars
,
cigar cutters
,
humidors
,
lighters
,
gifts
,
smoking accessories
,
flavored tobacco
,
pipe smoking
,
cigar smoking
,
father's day gifts
,
tobacco blends
Mobile Tinder Box offers pipes, pipe tobacco, cigars, smoking accessories and unique gifts. Tinder Box has been your pipe and cigar smoking experts since 1928.


About Us


About Tinder Box


Store Location


Contact Us



That state in which you are shipping to may affect your order.
You are currently indicating you are shipping outside of Alabama.

If you are going to have your order shipped to a different state,
please indicate the state on the right





Regulations on Tobacco Sales
Both federal and state regulations can impact the availability and/or pricing of our products. Current federal regulations prohibit us from selling any tobacco items (ex: cigars and pipe tobacco) to any person under 18 years of age. In addition, some states have adopted their own regulations that may limit or prohibit the sales of tobacco items through the Internet. Use this select field to view the regulations and our policies for your specific state.

Sales Tax
Orders shipped within the state of Alabama are subject to our state sales tax (10.000%) which will be added at the time of checkout. Orders shipped outside the state of Alabama will not be charged sales tax through our store. Please check your states regulations on sales tax for items ordered out of state.